1.SMD Led
Latest Technical to Improve the Image Clarity from 88% ~ 95%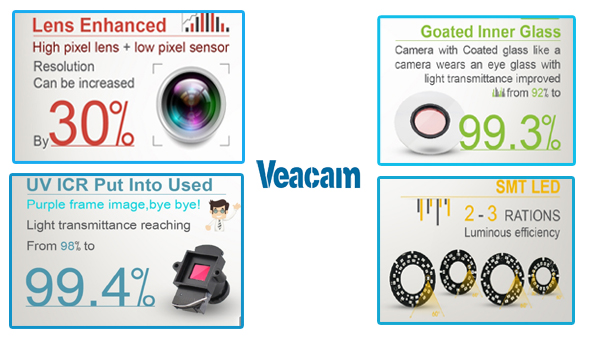 2.WHat' s TRUE WDR (SENSOR WDR)?
True WDR is a sensor-based technology, camera with this technology can produce images with an extremely wide dynamic range. The WDR image sensor can capture several images with short and long exposures, then combining them into a single frame. True WDR can be adjusted using three pre-set levels (Low/Mid/High) according to the lighting conditions. Proper calibration of WDR level is essential to achieving the best result –setting the WDR level too low may not produce satisfying visibility, while setting the WDR level to high may lead to washed out images.
3.COMPARISON BETWEEN D-WDR, WDR, BLC
| | | | |
| --- | --- | --- | --- |
| Difference | Digital WDR | True WDR | BLC (Backlight compensation) |
| Technology | Adjusts the gamma (Y) value to enhance dark areas | Combines long and short exposures into one frame | Increase the level of exposure for the entire image |
| Pros | Good quality image | Best quality image | Object of interest is clear |
| Cons | Image may be slightly washed out | May have minor color restoration problem or color dispersion | Overexposure in brightly lighted areas |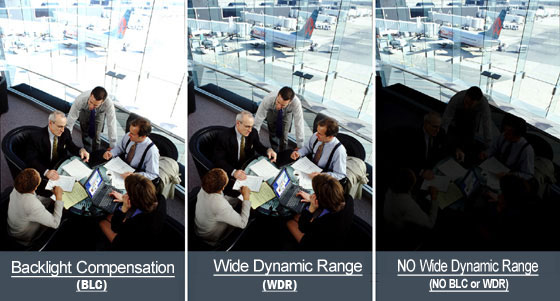 4.StarLight solution makes darkness totally visible !
Sony newest Starvis CMOS image sensor (IMX290/291)hat widely used in starlight HD analog /network cameras, it can capture Full HD 1080p resolution video with vivid color and high quality at 60 frames per second, ideally suitable for the high-speed motion scenes.
In complete darkness condition (<= 0.001 Lux), using the Infrared lighting to capture video is the common solution to meet the night video surveillance needs, however, the surveillance camera only can capture B/W image; some cameras may use the white lighting to achieve color video surveillance at night, but the result is not satisfied because of the limitation on illumination distance and angle. Using and deploying the Star-light surveillance cameras can effectively solve the above deficiencies of night video surveillance applications, can fully meet the requirement of night surveillance applications.